Trading stock online at BCT Trader is easier than it ever was
---

Our award winning trading platform allows you to access directly the major stock exchanges around the world, making more than 18,000 global stocks easily available to you.
We make it affordable and easy to create the Stock portfolio of your dreams while offering you some of the best active trader tools in the industry.
Develop the online Stock trader in you, our trading platform includes:
Stock Screener
Stock Trading
Sample Research Reports
Equity Research
Account Benefits
Technical Analysis
Evaluating risk versus the investment's potential is the secret of successful stock traders. That is why BCT Trader allows you to access the world's stock markets directly and the chance to diversify your Stock portfolio with different asset classes and/or to hedge, all with only one one trading account.
---

Learn more about our award winning platform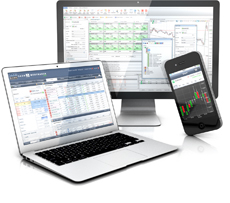 BCT Trader provides traders with direct access to the world's stock markets as well as the opportunity to hedge and/or diversify a Stock portfolio with many other asset classes, all from a single trading account.
Trading platform Features:
Get access to 18,400 Stocks
Access 1,500 Exchange Traded Funds, FX, Futures, and CFDs on multiple types of assets
You can short Stocks on over 7,500 companies by means of Single Stock CFDs (Contracts for Difference) traded OTC (Over the Counter) on our trading platforms.
Real-time data from all exchanges (one level or multiple levels)
Multiple Order types available
Smart order routing: Smart Order Routing is enabled for all Stocks as well as all Single Stock CFDs offered for trading.
Use Stocks as collateral for margin trading: you are automatically eligible to use a percentage of your investment collateral for margin trading of Forex, Futures and CFDs, available through our versatile multi-asset account.
Streaming news for active traders: BCT Trader keeps you up to date with real-time financial news from some of the industry's most trusted newswires